Looking for a custom silk or dried flower arrangement that fits your unique style and preferences? Look no further than SandraLuz Atelier!
At our studio, we specialize in creating stunning floral designs using a variety of materials, including silk and dried flowers. Our focus is on creating personalized, sustainable, and long-lasting floral concepts that are beautiful and eco-friendly.
We welcome custom requests from individuals and businesses looking to enhance their home or office environment or planning an event. We will work closely with you to create a tailor-made arrangement that meets your specific requirements.
If you're interested in visiting our atelier, please fill out our contact form and let us know your preferences. Please note that our atelier is a visiting address by appointment only, so make sure to book your visit ahead of time.
Create your own custom floral arrangement with our help
Elevate your space all year round with our silk and dried floral subscription service. Receive a new arrangement each season or twice a year, depending on your preference. Ideal for both individuals and businesses, our arrangements offer a warm welcome to guests and improves the aesthetic appeal of your space.
We'll work with you to identify your individual style and preferences. Our silk, dried, and preserved flowers are designed to deliver an authentic look and feel, and we'll customize them to match the season.
We handle every step of the process from pickup to delivery to ensure your flowers arrive in excellent condition and are neatly arranged at your location. Our subscription prices vary based on the arrangement size with options already starting at €25 per month!
Let us bring beauty and joy to your space with our stunning floral arrangements. Contact us today to get started and enjoy the convenience and sustainability of our service.
Silk & dried floral arrangement subscription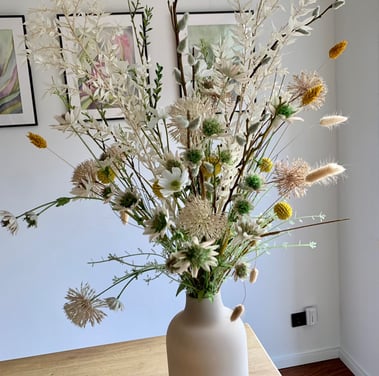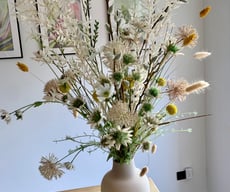 Christmas Decorations for businesses & residentials
Are you looking to style your business or your residence in a Christmas festive ambiance?
Our service is designed to suit varying requirements and budgets and we collaborate with you to understand every single detail of the decorating process so that the designs we present to you can ensure the magical spirit of Christmas for your home or business.
We offer you our professional Christmas decorating service along with traditional wreaths and our unique festive floral arrangements.
The choice is yours and whatever your decision you can ensure the magical spirit of Christmas will fill your home or business with true delight.