At our studio we create a total floral concept for your wedding.
We customised flower arrangements with all kind of flowers: fresh, dried, preserved & silk flowers, for the ceremony and for the venue. Our arrangements are then sustainable and environmentally friendly.
Every event or wedding is different and we strive to offer a unique and personalized service.
We realise that you need to plan and estimate the costs involved in your wedding so we will present you after our meeting, a quote and a inspirational mood board for the look and feel of the possibilities you could choose for your celebration.
We would be happy to arrange an appointment at our studio (or via an online appointment) to discuss your wishes, theme and color palette of the kind of flower arrangements you will like to have at your wedding or event.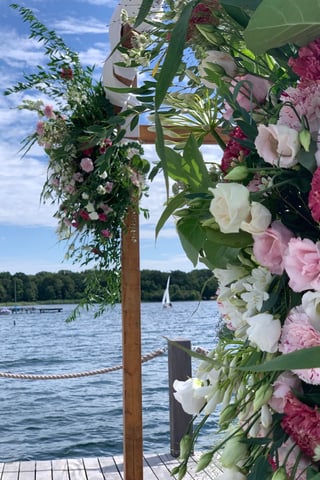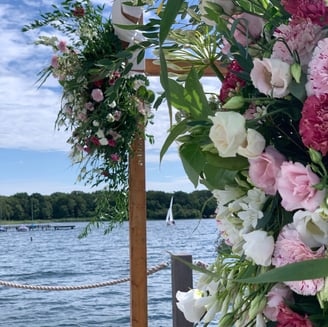 On location we create and place your wedding flower arrangements.
Think of, rental essential styling items such as backdrops, table decorations, entrance board, draping, candles and candleholders, etc.
At the end of your wedding or event, you can take with you the fresh flowers and we we will pick up all the rented items.
At your event or wedding location
At our studio, we specialize in creating stunning floral backdrops and arrangements for various occasions such as weddings, events, launches, and photoshoots. We provide you with the option to rent a custom floral design that is made using a beautiful selection of dried and silk flowers, along with seasonal fresh flowers. This combination results in a truly captivating and breathtaking display. Whether you are looking for a romantic and elegant backdrop for your wedding ceremony or a vibrant and eye-catching arrangement for a corporate event, our studio is ready to meet your specific needs and preferences